That particular reference to 'night moves' comes back around towards the end:
Three in the morning he found himself watching Night Moves with the sound turned down – replaying Act Two over and over again as he tried to identify the exact point at which Gene Hackman's private detective Harry Moseby fails to understand he has become a function of everyone else's scheme of things.
Don't think I've watched it ever. A lot of his references are things I've not heard of... eg to 'Broceliande'
'It's very Brexit up here,' she wrote later to Shaw. 'Eight pubs in a mile and deep surrounding woods. I already think of it as my Brocéliande, although the high street seems to have been deforested as early as 1307.'
and these paintings:
Gertrude Abercrombie's The Red Rook, 1948
(really like that one)
and The Colossi of Memnon, Thebes, One by Carl Friedrich Heinrich Werner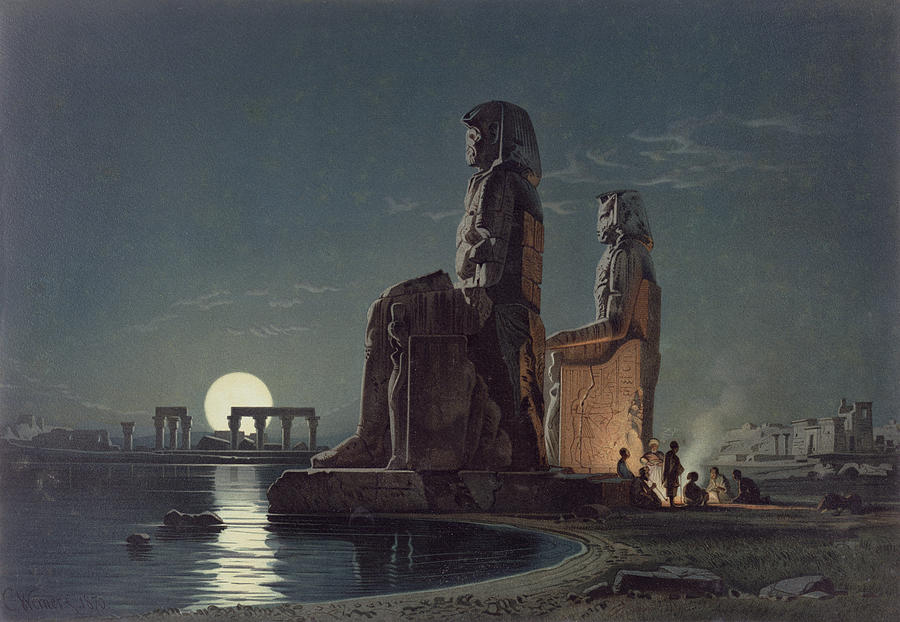 I'm nearly finished now... the story has become clearer but certainly not wrapped up.
SPOILERS ahead.
There's some kind of alien being and the main character's boss is involved in it. Here's the first appearance of it
Patrick Reed described what he'd seen in the toilet as 'a pale greenish flake no more than a few millimetres long', which had seemed to move in an energetic, random way until he accidentally urinated on it, whereupon it grew into a 'green child' which possessed the qualities of both a foetus and a fully formed organism, and which he flushed in absolute disgust. At that time it was still growing. 'I felt,' Reed told the judge apologetically, 'that I had seen something no one should ever see.
And there's also a map of an alien planet with this fantastic description
It was about three feet by two, old and discoloured, curled at the corners, with rusty marks where old-fashioned drawing pins had been removed. The land was in grey, the sea white. If you looked at it long enough, there before you was a brand-new planet. It featured a sea shaped like the Americas, another sea like the eastern half of Russia. In between them, in the centre of the map, stretched this vast new continent which didn't even have a name. Blink and it was gone. You couldn't get it back. You were left with a featureless map of the world on which someone had marked naturally occurring clusters of a repeating DNA sequence sometimes found on human gene Kv12.2, code which had originated, he read later, 'more than 500 million years ago in the genomes of sea-dwelling species' and which played 'a decisive role in human spatial memory'. Why anyone would map that was unclear: it was an oddly specific way of looking at things, and not one you could navigate with.
He goes to visit a medium, again, upon his boss' request
'This is such a difficult service to offer. No one comes to the medium without a problem – but people often aren't sure what it is. The medium, in her turn, can't be sure what's being provided. She's absent at the most critical time. She's only a conduit.' She smiled. 'You'd be amazed,' she said, 'how much can be solved by simple changes of habit.' To this end she gave him some leaflets, most of which seemed to recommend replacing meat with fish in his diet, and a number to call if he needed any further advice.
Lots of psychogeography/aimless wandering/musing which is very enjoyable for me, warm bath territory
That lunchtime, for a change, he walked downstream to Strand-on-the-Green and ate a hamburger sitting outside a pub called the City Barge while middle-aged women in yoga pants by Liquido and Spiritual Gangster exercised their miniature dogs between him and the river. Shaw felt as if he was sick of all that side of things. The tide had turned. The water was beginning to slacken and churn. Midstream, Oliver's Island looked like a Victorian dreadnought abandoned in the quivering light, its slabby iron plates somehow turned to stone. I would never have to fake my own death, he found himself thinking. I've all but vanished already. Part of him welcomed that. Another part, larger but distributed so thinly across his personality that it seemed invisible, panicked soundlessly on a twenty-four-hour schedule.
Then this very cold, courtroom way of describing minor characters, with precision detail, that reminds me very much of Sinclair, or Jack Trevor Story.
A retired teacher from Swansea had arrived one drizzly Saturday on the doorstep of the Maida Vale house-share where Shaw was at that time living in a nice double room with a woman called Jasmine. The teacher's name was Keith and in his prime he had taught creative writing to maximum-security prisoners on the Isle of Wight. He was in his middle seventies now, and already drunk when Shaw answered the doorbell. Three o'clock in the afternoon, late November, fifteen years or more since Keith had been his father: Shaw had no idea how he had got the address. What Keith wanted was even harder to understand, though he had brought along a file of handwritten poems under the general title 'Pleasing the Long-Dead Heart'. He ate dinner with them, watched TV, drank shiraz until he was paralytic, then Jasmine drove him to the station in her Austin Metro. In the car, he expanded further on his theory of the heart; put his hand on Jasmine's knee;
described Shaw as wet. If she ever needed a real man, he suggested, she should look him up. 'He's missed the last Tube,' she said when she got back. 'I just left him there.' Shaw felt embarrassed for them both.

A few months later, Keith died under anaesthetic during a routine varicose vein procedure. By then Jasmine, as puzzled by Shaw as she'd been by Keith, had gone off with a tree surgeon. No one blamed her. There was a memorial service, held somewhere in the armpit of the Gower Peninsula, which Shaw didn't feel like attending; he kept the poems, though they weren't much good. Viewed in the context of their relations with his mother, men like Keith often seemed less errant than lost. What was missing from Shaw's memory was any sense of them as human beings: he couldn't at that distance return it to the picture.
or
The downstairs room would fill up from about seven o'clock with a dozen men wearing business suits or Australian oiled cotton jackets. Collar-length white hair and a navy-blue Guernsey pullover indicated a retiree. Each of them seemed to have a single prominent defect – a
thickened jaw, one eye too large for the other – and while they presented as well off, Shaw thought they lacked the healthy patina and slightly overfed look you would expect of older west London.
and then this faint hint of menace/mystery alongside it, but of course no 'proper' explanation
They walked up as far as Barnes Pond together. Sunlight glittered on the traffic sawing its way round from Church Road into Station Road. Mallards could be heard squabbling on the little island in the middle of the pond, while over in the Essex House car park the farmers market busied itself inevitably towards lunch – anxious bankers from France and Scandinavia vying for the last of the hand-made pasta, free-range meats from Somerset doing as well as ever. Between eleven and twelve the green had filled with strolling project managers, their children and identical chocolate Labradors turned out for a walk in the Cotswolds; now toddlers crowded out the margins of the pond, shyly offering ends of artisan sourdough to the geese and seagulls in the shallows. 'Darling,' someone called, 'please don't let them bully you like that!' Tim regarded these activities with barely suppressed irritation, a tension which expressed itself in sudden small movements of his shoulders or the corners of his mouth. 'The Mort Lake, or "Dark Pool",' he said. 'If they knew anything about the history – if they knew the thing John Dee knew about this place – they'd keep their bloody children at home.'
Very enjoyable for me, you can see the Ballard-influenced central archetypes of mysterious/naive main character, nefarious mentor, complex love-interest, then all the culture-vulture stuff, wrapped up in really readable prose.