Until recently (and possibly still) DCU = the Poundland MCU.

I'm all for more Marvel after watching WandaVision.
Afaict, Marvel feels like it always had the something more topical in it's original wave of comics - Fantastic Four - created due to radiation exposure while in space , the everloving Hulk- zapped on purpose - on the testing grounds and
X Men - perpetual outsiders who humans may just never - trust.
Avengers were never great as a comic, the story lines strained to allow for fights between competing factions, on TV the comic anime series was not great either.
But Marvel sure pushed them ... right through Black Panther, into Black Widow spin offs, into Wandavision.
The Vision by Neal Adams i think it was .. was something in his original form.
DC's Superman - always felt they had that America Brand stuck right on,
marvel's Captain America too of course, they pushed that brand through the Avengers movies into this last incarnation with the new guy - more working class slightly odd fit costume to 'end of Capt. ?'
Batman of course got some glorious remakes thanks to Tim Burton , Christopher Nolan and then a raft of others.
Once we had the dark Bat, every other got shaded, darker.
I liked the Superman reboots, possibly only due to the casting of Cavill who seems just great in the role, at least the 2 i saw.
2021 ? yeah , an array of new X Men- what with the female Wolverine coming
Loki off a fine start, second season ordered ? ... The Eternals by Chloe Zhou, Next Thor comedy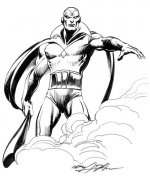 Avengers v1 #93, 1971 - Rating and review by Pencil Ink, a blog on comics and comic book artists of the past.
pencilink.blogspot.com