It's the 20th anniversary of Kubrick's most cryptic and one of the most unnerving films I've ever seen. It took me forever to get round to it and when I eventually did I remember being both sick with dread and unable to look away. It's up there with
Repulsion
in terms of literally everything about it feeling hostile and threatening, like being in a situation in which every fibre of your being is screaming at you to run.
There are a ton of theories about what's going on, but one of my favourites is that we're actually being shown the same party twice. It's all the same people, the same events, just with the veneer stripped away, through the looking glass.
The glow of the whole thing is brilliant too, there's something about the lighting which gives it this soft, dreamlike quality which Gaspar Noe seems to have ripped off in every film since
Irréversible
- along with the font and block capitals.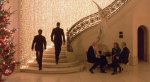 Last edited: