"Money has lost its narrative quality the way painting did once upon a time," she says. "Money is talking to itself."
Is the game up once the gaze turns inward? Can it ever be diverted once something catches sight of itself? A genre which takes to mining its own past seems to be on the downward trajectory to becoming a spent force. You can see it in the endless refixes of eski stuff scattered across YouTube. A stationary figure starving to death in a labyrinth of its own reflection.
The same happened to fiction. It became aware of itself and now it can't think of anything
but
itself. The same is happening to film and the same will probably happen to video games, if it hasn't already.
Is there any way out of the hall of mirrors?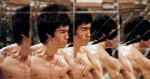 Last edited: