Has someone else already mentioned this Bristol based crew?
https://soundcloud.com/uvb76music
They had a write up in the Wire which was where i first caught sight I think...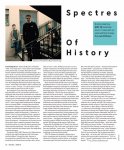 Been really enjoying the moody take on jungle. It's probably a bit nostalgic at times, but still very enjoyable for me.
They've also got a subsidiary label, stone tapes, referencing the Nigel Kneale TV show.
Slightly confused that one of them has renamed himself Karim Maas, presumably to sound more German? Rest of the names are suitably dark: Vega, Pessimist, Overlook etc.
They are playing MCR in November.