I kept reading all this stuff about this new wave or super realistic veggie burgers. I even read the head of some kind of meat promotion board in the US saying "We're in trouble here boys" (or words to that effect) which made me sit up and take notice. I understand that Tesco has some that are supposed to be really good but no Tesco here so haven't tried those yet. Then I saw one of my friends bigging up the new Rebel Whopper at Burger King and they do have BK here so we hunted one down today and finally tried it...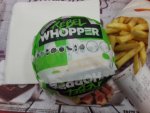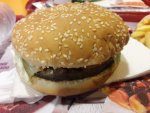 ... and, the thing is, it was ok. I was expecting more from what I'd read, I couldn't really taste the "burger" itself, it was overwhelmed by all the other stuff in a whopper - maybe that's always the case though, it's been five years since I ate in BK I reckon. Texture was ok I guess, felt like a fairly bottom of the range burger. My girlfriend said it was actively unpleasant which was a worse review than I gave although I think there was a slightly different taste in there somewhere that I could have done without.
Anyone got any thoughts on this? Are they healthy and good for the planet anyway? I really don't know to be honest.
Last edited: