Who is Dan Hodges? I notice that every day he has been relentlessly pursuing this story in forensic detail like a bloodhound that has picked up a scent and which will simply not allow anything to dissuade him from the anticipated kill. It's actually quite weird cos he seems to assume that everyone else in the world has also been doing literally nothing but ferociously study the minutiae of beergate for the last week or so.
His increasingly unhinged tweets say things like
"And how come Starmer's pint was still at 0.68 fullness at 22.15 if he ordered as he claimed at 21.48 (and 7 seconds) when the latest statistics on the average rate of beer consumption amongst males in his age bracket predict a fullness closer to 0.49 if his fairytale is true? Ludicrous!"
Today he makes a great point though..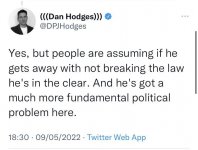 Our society is truly broken if we are going to accept that powerful people can simply not break the law - and get away with it!