"an act or instance of summarizing and restating the main points of something"
-
so having just completed this book on the sixties and health i'm mulling over the connections between the two eras
someone wrote here recently that the beatles had nothing to do with acid house (i think it was in the 808 state "newbuild" thread) and i thought that was wrong.
acid house was essentially a return to the same headspace as, for instance, the grateful dead's ecstatic jams or the early pink floyd's freakout performances at the UFO.
it's a mistake to get too hung up on the differing instruments - in a kind of rockist or non-rockist textureological argument. the early psychedelic music was all about VOLUME (big rigs built by the likes of owsley). the environment of the LIGHT SHOW was the same. the drugs ANY AND MANY was the same - if not MDMA. the REPETITION. DANCING for instance at the fillmore or avalon. and ELECTRONICS - silver apples being the outlier but electronics also as ELECTRICS.
discussions about the centrality of the performer? well in the early OUT days the distinction would have been, yes more marked than the DJ in his booth maybe (though plenty of adulation directed at DJs) but especially the dead and the floyd - the bands were like members of the audience.
this connection bewteen the two eras was definitely recognised at the time. there was much use of the standard grab bag of imagery - repurposed hindu stuff - new age imagery - but also specific images spring to mind - that george harrison portrait as a guru. images of kesey's "furthur" bus.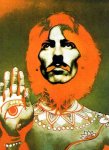 -
but beyond the music to my mind there was a definite re-run of the same ideas. a return to the same "space". i like to think of time being organised not chronologically but in terms of illumination. the future is an illuminated space - that's why, for instance, musical artifacts from the past can be "influential" - because they are actually from this illuminated future. paul mccartney said a cool thing in 1994 about the sixties in this respect:
"I feel like the sixties is about to happen.
It feels like a period in the future to me,
rather than a period in the past."
and the rave era - that was a return to the future too...