My girlfriend went gallivanting around France recently and she came back with a new found appreciation for castles. That meant that two days ago we went to look at Sesimbra castle which is about 45 minutes drive from where we live.
She was amazed at how badly maintained it was compared to even the worst of the French castles... but whatever, it's free to get in and wander round and I liked it. The walls are about a thousand years old and put their by conquering Moors, and then I think taken back and maintaining by the returning Portuguese. It's on the highest point for miles around and the view is ridiculous. Although she might have had a point with this particularly informative sign.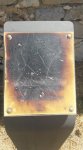 And there were quite a few bits where a combination of a a lack of railings and some seriously wonky floors definitely meant there was serious danger of death. But the views....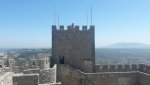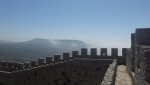 Sesimbra seemingly had its own weather system or something cos of the hills, there was a load of mist kinda trapped below us and when we went down to the beach it was totally overcast.
The way out at this end was called The Door to the Sun or something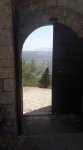 So really it was just some walls surrounding a big open space containing a chapel with a truly beautiful tiled inside - it reminded me of an East London pie and mash shop - and also a coffee shop and loads of scrubby faded grass.
Last edited: