The latest hilarious news from Sidney Powell... when it was announced that both Dominion and Smartmartic are gonna sue her so hard that you almost (but not really at all) feel sorry for her, Trumpletons were all over twitter saying stuff like "Yes, they've fucked up now, cos the discovery in court is gonna reveal all their wrongdoing - the awesome Sidney is going to relish that battle".
Which is amazing on so many levels, revealing so much ignorance.
For starters, loads of STILL totally believe that the machines did just flip votes to Biden AND they believe that there is loads of evidence of this, and that the only reason that Team Trump lost the 62 court cases was due to minor legal technicalities.
This is a bit of right-wing propaganda that has been very successful (albeit only on idiots whose opinion doesn't matter in any way and who can't change anything), there is a straight-forward lie going around that ALL of the court cases were dismissed on technicalities (just things like lack of standing which isn't some minor technicality*) and that Powell and Rudy never got the chance to provide any of their mountains of evidence in court - when in actuality there were loads of cases in which they were able to present their evidence and it was all shown to be lies, hearsay, insanity or just irrelevant or whatever.
Also they believe that when Dominion sue Sidney Powell it will somehow swing round to her cross-examining them and revealing all their lies and probably at the end of the case the judge will say "The wool has been pulled from my eyes, spread the news that Trump is now president and we Biden must immediately be seized in the White House and taken to another place where he will be hanged from the neck until he is dead - and may God have mercy on his soul".
Anyway, this has been a constant theme on Twiter ever since the announcement with people proclaiming it with total confidence, which, as we see every day, is not shaken in any way by being proven utterly wrong in almost every single aspect all of the time. Only thing is, apparently someone forgot to tell Powell cos it seems she has been desperately on the lam for the last month or whatever, her legal strategy to fight the case turns out to have been based on her running away as fast as she can so that they can't serve the subpoena on her. This woman is fucking amazing.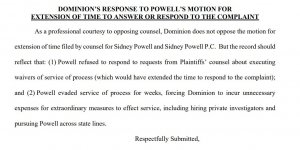 *One time I saw someone claiming that lack of evidence proving their claims was a technicality. Just brilliant - albeit accidental - comedy genius.