Lisbon based record label Invisible Sounds launches on Monday 12th October with long awaited album Misekake by Jaguar No Me.
Front man and main song writer Taishi Nagasaki (former bass player with Fat White Family) is the brain behind this psychedelic combo which formed in 2017, taking their name from an old Japanese children's programme - appropriately enough as a times there is a childlike naivete to the music which ranges from cinematic psych to rawer garage punk. I'm not going to go to great lengths to describe it, just listen!
The record is a beautiful object with a cover featuring the artist and - with a nod to Japanese records of yore - an obi strip down the side. The inner sleeve has the lyrics in Japanese and English (translated by me!) and sounds crystal clear.
You can buy the record from bandcamp or in certain selected shops - and there are also digital copies of the music available from bandcamp and soon Spotify etc if you're that way inclined.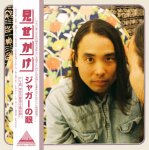 Last edited: