Mentioned this in the castles thread the other day cos we planned to visit it. But - quick recap - if you're driving near Barreiro or Coina or whatever on the other side of the river from Lisbon you can't help noticing this weird spooky looking tower thing. There is a huge valley and right in the centre on a somewhat raised mound is this distinctive building which is visible from miles away cos of its location, if you're on the motorway you're bound to see it and wonder what it is and google it - and you'll find out that some guy got rich in the 1800s taking rubbish from Lisbon on his five boats (called "The Lame", "Beelzebub", "Lucifer", "Devil" and "Satan") and then bought this old castle (although some versions say he built it) and then changed it around a bit.
Officially, the reason for rebuilding the palace was to make it more suitable for family life. The locals, however, were convinced that Gomes was rebuilding his palace to be the headquarters of a Masonic Lodge. This version could be plausible, since the building's architecture contains a network of underground labyrinths with numerous Masonic symbols as decor.
He also named the place "Hell farm" and "Devil's Tower" or something. I don't think he was a satanist, he just wanted to piss off the church. That's the official version anyhow. He was certainly a philanthropist and built schools and stuff. But soon sold the place (some say he never even lived there) and it's been through various hands before catching fire in the 1980s (I think) and being pretty much abandoned since.
So we decided to see if we could explore. We drove to Coina and parked the car by the side of the road and wandered up to a roped off, overgrown road with loads of faded old signs saying "No Entry" "Private Property" and suchlike. There was a weird guy in his car parked outside it and he immediately accosted us, he said he'd just been round it and the thing to do is walk to the end of this road and then crawl through this hole in the big door. All fine... but then this guy wouldn't fuck off, he got out of his car and insisted on fist bumping us and telling us how haunted the place was... it felt like the start of a horror film when they meet some slightly off yokel who is just too persistent... and who turns up later wearing someone else's skin or fucking a pig or whatever.
In the end we just kinda walked away from him down the road through all these abandoned buildings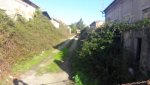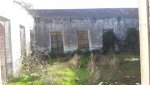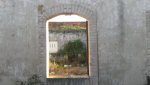 I have to say, when we reached the gate (below) I'm glad he'd told us about climbing through that hole cos I don't think I would have done it otherwise. Also, it really stank of something dead, or maybe shit, and there were loads of flies around by the gate (it was really hot today like 25 or so). You can't really see the hole but it's in the shadow there, you really have to crawl on your belly through the dirt... which was fine but somehow cos of the smell it was unpleasant even though you weren't actually crawling through mud or shit.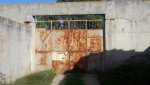 Also, what was weird, as we were by that gate, we could hear a big dog barking on the other side of the wall... to the left I mean. And as I went through the gate it started doing that really deep guttural growling which is exactly the noise you don't want to hear from a pitbull sized beast. Not that I ever saw it but it must have been really close and it sounded huge. Combined with the weird guy from before it was slightly unsettling.
Last edited: