Together, we'll travel back in time to solve one of the greatest mysteries of the modern world: what the fuck happened in 1972?
Bobby Fischer beats Boris Spassky at the Match of the Century, ending Soviet domination in chess. Richard Nixon is
Time
's Man of the Year. On August 4, one of the largest solar flares ever recorded rips across US infrastructure, knocking out cable and power lines. Sunspots stick around til the 10th.
The Billboard Top 100 singles are loaded: James Brown, Isley Bros, Michael Jackson, Aretha, Sly, Al Green. We even got Don McLean's "American Pie"—which'll serve as our organizing metaphor. McLean thinks he's singing about 1959; he's not, he's introducing us to the post-1972 world:
So, bye-bye, Miss American Pie
Drove my Chevy to the levee, but the levee was dry
And them good ol' boys were drinkin' whiskey and rye
Singin', "This'll be the day that I die
This'll be the day that I die"
Meanwhile, the economy—whether you ask radical left economists or Chicago-school libertarians—undergoes a shift whose effects set the scene for everything we're seeing today: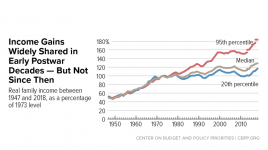 We're looking squarely at the start of American decline.
Really though, this is about whether, and how, the post-Sixties era set the tone for the world we live in. The hippies had their own vision—a very different one came to dominate. Anything 1969-1975 fair game.
@Padraig
, boss, you better come back for this one, holidays are over it's time to get to work.
Last edited: