aka The Soviet Luka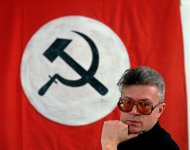 Following his appearance in
Can't Get You Out of My Head,
it's inevitable he will become more of a talking point amongst the online commentariat and twitter-left who were either previously unaware of him, or unwilling (or disinterested) in engaging with his ideas. I read Emanual Carre's biography of Limonov a few years ago after first becoming aware of him after watching Paweł Pawlikowski's 1992 documentary
Serbian Epics
on Radovan Karadžić and the Bosnian-Serbs, and found it utterly griping - it's by far the quickest I've ever finished a book and thoroughly recommend it to everyone on here. His best known work
It's Me, Eddie
is notoriously difficult to find in print in English, although I did manage to pick up a copy of the sequel
His Butler's Story
but never got round to reading it.
Has anyone on here read any of his works? What do we make of his ideas and politics? Do we think Curtis' portrayal of such an undoubtably complex and contradictory character did justice to his legacy?
I'm also rather surprised to find that there is only one previous mention of him on the forum - he would make an excellent subject of a guerrapittura.wordpress essay.
Last edited: