if we're talking aqueducts, this is a top one - ribblehead in the yorkshire dales.
Ribblehead Viaduct was the scene of a free festival for a couple of years from 1987 - 1991 - apparently late August is a good time to find magic mushrooms around there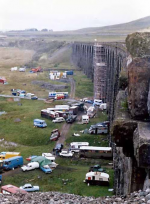 I knew some people who went to the 1988 festival - it wasn't fun according to them. This was when the Brew Crew had an issue with one of the travellers that ended in extreme violence..
Dave Brock of Hawkwind had this to say about the 1988 festival:
"I mean Ribblehead was a real piss-off. People were getting stuff nicked all over the joint. If you can't go to a festival where you can leave your van unlocked or whatever... Years ago there never used to be all the scenes of nicking that go on now. I mean you could leave stuff laying around and you wouldn't get people pilfering it or trying to get in the van... having a look in the window to see if there's anybody in there so that they can go in and nick stuff."