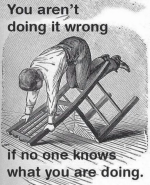 Caption: "It's experimental art, Ma!"
Last time:
Fronts
.
Insofar as we create performances for each other, and interpret one another's performances, we are constantly caught in a practice of
reading
and
writing
.
With a text-based communication medium, like Dissensus, this reading and writing is fully literal. In meatspace, it's a metaphor, but only sorta—how we dress, our moods and affects, our behaviors, are all subject to semiotic encoding and decoding.
Legibility
: the quality of being clearly readable.
In broad strokes, the incentives for legibility or illegibility are straightforward.
If you're in an adversarial situation, you want to make sure your opponent can't predict you. If they can predict your behavior, they can optimize around your future behavior; think Rock Paper Scissors.
If you're in a cooperative situation, it tends to help if your ally knows your plan and intent. Avoiding duplication of effort, ensuring that each party's actions do not hinder the actions of the others. Insofar as you desire to hide information, it is typically because you do not trust your partner in some capacity. For a simple example, a game of Rock Paper Scissors where both players win when they choose the same symbol, and lose when their choices differ.
Finally, anti-legibility: You give reader a false clarity; your text purposefully misleads.