That's basically it, the prosaic title tells you pretty much everything. Except the price on the door... which I myself don't know.
Anyway, Ferro Bar is a pretty cool spot on the edge of the hill by the bridge thing, it's Liza and I playing whatever the fuck we want all night for the first time in ages which should be... interesting I hope. I love the picture they have selected for it (an action shot from our first visit to Porto to play at Passos Manuel).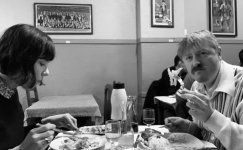 Then, on Saturday we are playing at a restaurant called Torto - but it's a restaurant with a dancefloor and it's open until three so should be pretty good too I reckon.