On Friday I'm one of the guest DJs for these guys who call themselves Ego, Liza palyed for them at a small bar a few months back and it was a really nice party, tomorrow in a bigger spot let's see if we can get that atmosphere again. I'm bottom of the bill playing 10pm until 11.30 so maybe no-one will even see me, but nice to be involved all the same.
On August 26th starting at 8pm,

@egonwards

will bring three special guests to Arroz Estúdios: CVLT, AAguilAA, Idle Rich, joined by the resident of EGO, Khalil Suleman.

This event starts in the Arroz Terrace (open-air) and will end at the indoor area

Tickets: 8€ pre sale / 10€ door

Arroz Estúdios is a non-profit cultural association, a membership is required to enter. *Membership cost is €3, it's valid for the whole year, and is pay at the door.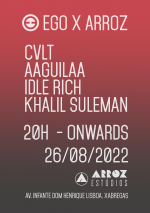 They gone really crazy advertising this. Every second I get another update saying that there is another notice about it. I hope it's not overkill, I guess they have done more than one "main overall" pictures and then probably a different variant with each individual dj and i think they've done some other things showing it's listed as one of the best nights in town or something.
Unfortunately this picture below got them in trouble cos it had a cool looking guy smoking and they weren't able to share it as an advert cos it was "promoting smoking"