It would be interesting to trace the fashion upticks in terms of social crisis.
So there was a lot of this sort of thing around the in 1980s which was an apocalyptic time in terms of nukes and the AIDs crisis. But as
@martin
pointed out this was mainly because military clothing was cheap and durable. There was an aesthetic aspect but I think this was just as much about subverting military imagery. Or perhaps being militaristically anti-military.
More recently the uptick has come from cosplay stuff as
@mrfaucet
says but is also tied with the rise of the alt-right and to a certain extent BLM. These guys in Brixton made the tabloids shit their pants: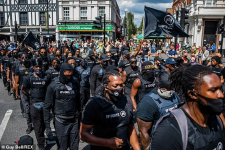 Also the image of the Antifa super-warrior in the right wing imaginary in the US.